About
Seiiti Arata is the founder of Arata Academy, offering online courses for continuous improvement.
Arata Academy: Your continued improvement.
Today, Arata Academy course topics include personal productivity, career development, personal finance, entrepreneurship, accelerated learning, communication, and relationships. New themes currently in the research phase will be announced through our mailing list.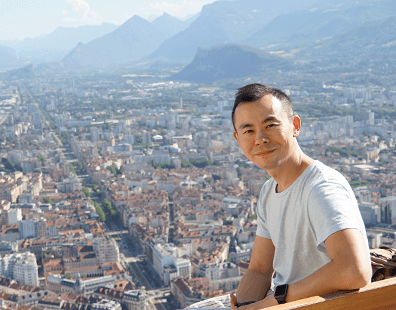 Welcome!
Hi! I'm Seiiti Arata, and I would like to introduce myself. Thank you for your interest in knowing more about my work.
You know, usually the biographies and "About so-and-so" pages are written in the third person, perhaps as a way to convey more professionalism. Unfortunately, this choice can seem detached and even grandiose.
Here's how the third-person narrative would look in my case:
Seiiti Arata has produced the content of this page to inform you about its mission and purpose. His online courses in Portuguese, English and Spanish have impacted tens of thousands of students across five continents.
Sounds fancy, doesn't it?
With all respect for those who like corporate language, I think that for our relationship this formality is unnecessary.
In fact, what I want is the opposite: I prefer to adopt a different tone and talk to you for real. Like we're having coffee together.
I do not want to be the sage on the stage as you sit in the audience to receive some indoctrination.
I want to be the friend who walks by your side as you reflect on the information I share with you.
This positioning causes many people to leave the boat for the three reasons I will explain here:
Reason 1:
Most people want a guru.
I believe in your intelligence and your ability to reason critically. Only you can assess the different possible choices and then decide on your own.
I am confident that you can use the knowledge you gain in our courses to create your own plan.
But if you are looking for a guru who will determine what is best for you, then I am not the person you are looking for.
Reason 2:
Most people want something for nothing.
I have worked for more than a decade in distance education. I have hundreds of books in my private library (which is becoming more digital nowadays), and I am constantly conducting trainings with the best experts in different areas.
This constant search allows me to select the best that each of these sources has to offer. Then I transform those references into video lessons with concepts that are easy to understand.
If I were a superhero, my special power would be this: to convert complex information into practical ideas that you can implement.
But there is a problem.
Some people think that paying for access to the course and looking at the videos is enough—they do absolutely nothing to implement the techniques presented.
An Arata Academy course is not like a movie that you watch, sitting on the couch and eating popcorn while answering Whatsapp messages.
Despite the ease and practicality of doing the online courses at your own pace, we also have several interactive activities. That is, you will have to reflect on the material and participate in the scheduled activities.
Wanting results without taking action is the same as wanting something for nothing.
If you are looking for someone who offers video lessons that you can watch passively without taking actions to reap results, then I am not the person you are looking for.
Reason 3:
Most people leave it for later.
There are people who do not prioritize. They do not choose to devote a few minutes to personal development. And without dedication, it is unlikely that they will enjoy or benefit from the courses.
At Arata Academy, there are three levels of content:
Free public videos on YouTube
Free private videos only for subscribers to the mailing list
Private paid videos only for registered students
At all three levels of content, you need to take a few minutes to view the material and then to do reflections.
Without reflection and transformation, there will be no learning.
Sorry, I do not want to sound like those old men in the martial arts movies who refuse to train those interested in learning. (By the way, I'm 37 today and only a few strands of white hair… for now.)
I'm opening up to you because we need to be attentive to the straw-fire behaviour: we don't want to arrive with great enthusiasm and then let the energy fizzle out soon thereafter.
So I share here a very important tip that deserves to be in bold:
In order not to stagnate, it is necessary to prioritize a few minutes of each day for continued improvement.
The whole foundation of the work we do here is based on effort, dedication, a willingness to learn and respect for oneself.
Reserving a few minutes of the day for yourself is a sign of respect.
(Honestly, I imagine that there are few people who have continued reading this far; the rest have likely already closed this window and moved on to a YouTube video of kittens.) The third reason that people give up is as follows:
If you do not have the sincere desire to devote yourself to studying the content that Arata Academy has carefully prepared for you …
… if you do not have the sincere desire to reflect and to carry out activities to achieve better results and continued growth …
… then I'm not the person you're looking for.

If you're still here …
If the three reasons I wrote above have not sent you running, then I'm very happy.
I will now explain a bit about my mission, my life purpose. This is how I can help and what I can promise you:
Easy-to-understand classes and clear strategies to implement. You will reflect on and choose the best strategy to reap the results you want to achieve.
Change of mentality. With the theory presented in the Arata Academy materials, you will face your challenges with a new perspective that is most useful for overcoming challenges.
Transformation. Without behavioural change, there is no learning. Without behavioural change, there is no improvement in results.
---
About My Story and Experience
I think now is the time for me to make that presentation that you find on every bio page.
My family is descended from Japanese immigrants who decided to rebuild life after the war and were welcomed by Brazil. Despite being born in the metropolis, I grew up in the interior, and to this day I appreciate tranquillity and simplicity.
My sister died suddenly as a baby, and I was raised as an only child. It was difficult for me to write the previous sentence. I can say, though, that I am very grateful to have received attention and affection from my parents. They instructed me at home to read early.
As a teenager, I devoured books and read everything I could find.
Constant reading helped me in academic life, and I had the opportunity to develop my scientific methodology by doing research.
At the University of São Paulo, I chose mentors whom I admired for their talent of explaining complex ideas in a simple way. And they showed me that it was not solely about talent: knowing how to teach clearly is a skill that can be developed. I am grateful for what I learned from them, and I apply it to my work today.
The learning and research techniques that I gained during that time came at a price: long hours of dedication, every day. I always had a book in my backpack when I rode the subway and bus to work in the daytime and then to night college.
Honestly, I did not know what lay ahead. I did not focus on research with a specific goal in mind. At the time, the intellectual stimulation of learning new things was in itself a sufficient reward.
The fruits appeared quickly: for my research, I received prizes in academic competitions. These sponsored my participation in international conferences in Germany and Switzerland. All the expenses paid—I could hardly believe it! Some acquaintances congratulated me on my luck, but I knew the effort that was behind the result.
At one panel discussion in Germany, directors of multinational companies answered a question: which book would you recommend for our young participants in this conference? It surprised me that there was one book that practically all of them recommended: this one.
I bought the book, I read it once, and I confess, I was not very surprised. I even tried to undertake and apply some of the book's ideas, but without success.
I ended up pursuing a corporate career, working in a glass-and-metal skyscraper, facing up to sixteen hours of work a day. Few of my fellow professionals were able to read, process, and synthesize the colossal volume of information that I could. The salary was good, and there was great intellectual stimulation. But I did not feel a purpose behind the work.
A few years later, I decided to read that book again, and this time, with more maturity under my belt, the ideas took on a different meaning.
Clarity told me that I should follow my original academic passion. I love to read. When I completed my school, I went to work at the United Nations in Geneva. I helped organize international conferences, and I met people from all over the world.
In this new phase of life, I learned the importance of being curious about understanding different points of view and respecting multiple cultures. I learned to listen, which is one of the most valuable skills I carry today.
But everything was not perfect: I was frustrated by the slowness of the bureaucratic processes that are part of institutional changes.
This increased my interest in change at the individual level.
I participated in training in communication, coaching, negotiation and accelerated learning. I was a teacher in different online courses, and I saw the huge potential for transformation in internet training.
In less than a year, I changed many of my own behaviours that I did not like. I rescheduled my habits. I freed myself from fears that kept me trapped in an unhappy comfort zone. I learned to improve constantly, and I created a new company to convey everything I learn every day.
Arata Academy is the result of consistency. Every day, since 1997, I have learned more. I am always buying new courses and new books to sharpen my skills, learn different subjects, and share the knowledge with you.
You can think of me as your personal assistant to find the answers to your questions and the techniques to achieve your goals efficiently.
Mainly, I am here to deliver a practical, tested, and approved plan so that you can implement your strategy and reap results.
How my experience may be useful to you
Very well. How do we accomplish the mission of developing the resources to implement better strategies?
We do it through video courses that you can access online from wherever you are, at a time that is most convenient.
Arata Academy courses are paid, and you will receive the password for access to the members-only area once you register. Before you choose which course to take, I invite you to check out the free material we offer through our mailing list.
If you like the free content, you can then go further with the paid courses; after you register I will send links with offers and discounts to you via email.
Thanks for reading this far. I hope it's the beginning of an excellent friendship.
A big hug!
Seiiti
To view the free materials and to register on our mailing list, use the form below.